The Agora
5000 Euclid Avenue
Cleveland, Ohio 44103
Parking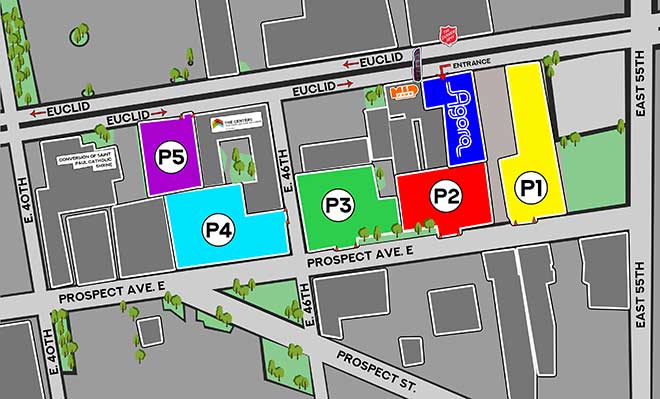 Accommodations
Handicap parking is available in the front of the building. Event staff are available to assist as needed.
Detour Info
**Effective May 2019 through May 2021**
PLAN AHEAD - If you are traveling to The Agora by way of I-490 between East 55th & I-77, travel could be delayed for you. Please review the detour graphics for information. For further directions, feel free to contact one of our box office representatives if you need assistance. Thank you.
For additional info, please click here.
I-77 northbound detour to East 55th Street northbound:
Exit at East 22nd Street/East 14th Street
Keep left onto East 14th Street
Keep right onto East 18th Street
Turn right on Carnegie Avenue to East 55th Street
I-77 northbound detour to East 55th Street southbound:
Exit at Woodland Avenue/East 30th Street
Keep right onto Woodland Avenue to East 55th Street
I-77 southbound detour to East 55th Street:
Exit at Woodland Avenue/East 30th Street
Keep left onto Woodland Avenue to East 55th Street
East 55th Street detour to I-490 westbound:
West on Woodland Ave to East 30th Street
Keep left and merge onto Orange Avenue
Keep right, merge onto I-77 southbound